I have an upcoming stay at the Radisson Blu Aqua hotel in Chicago.  I don't have status with Club Carlson, but I knew gold status equates to a room upgrade.  I have the no annual fee Club Carlson Visa card which does not come with status (more on that later).  Since the hotel is one of the top hotels in Chicago, it would be nice to get upgraded to see what all the fuss is about.
Club Carlson Status Match
Apparently, it's pretty easy to status match with Club Carlson.  According to Loyalty Lobby, Club Carlson will match status with Accor, Hilton, Hyatt, IHG Reward Club, Marriott and Starwood.
I had IHG Platinum status which comes complimentary with the IHG Rewards Mastercard for as long as you have the card.
I took a screenshot of my IHG Rewards status and sent the email to goldpointsplus@carlson.com.  The next day, I got an email informing me that my account had been upgraded to gold status until February, 2015.  Sweet!  That was easy.
You can also check out statusmatcher.com which tells you how to status match other hotels and airlines.
#HashtagHotelPromo
In case you missed it, Club Carlson had a party on May 13th… on Twitter.  It was pretty interesting as they gave away numerous prizes including thousands of points, silver status, and other gifts.
Basically, all you had to do was reply or send them tweets that involved the hashtag "#HashtagHotelPromo" in it.
I decided to play along and randomly threw in some tweets.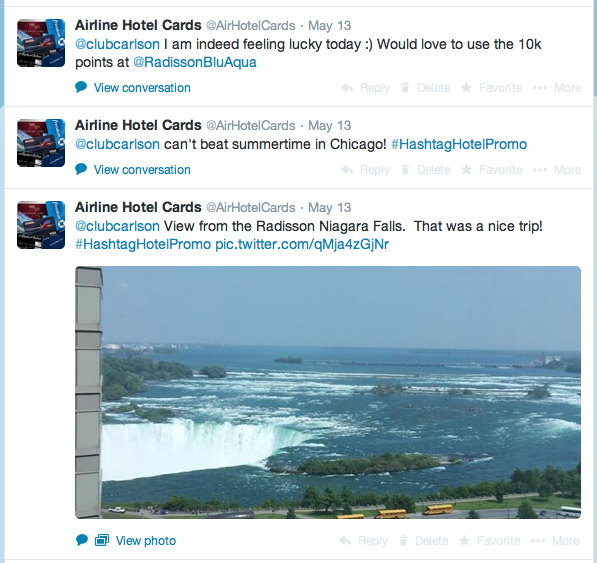 Long and behold, they chose me as a random winner.  What did I get?  Some really nice Bose headphones.  I haven't received them yet, but that's pretty awesome!
So, become aware of promotions such as these and have fun on social media.  If you enjoy the blog, please consider following me on twitter.   Looking forward to my stay at Radisson Blu Aqua next week.  Enjoy the weekend everyone!